With Salah, Mane and Keita leaving for the African Cup of Nations, do they have enough strength in depth, particularly up front to cope with those two huge losses?
"This is Jurgen Klopp's best squad that he's ever had, better than squads that have won the title and a Champions League, but with Salah and Mane in particular going to the African Cup of Nations it of course is going to make it much more difficult to win the league.
With the goalkeeper they are sorted. In defence they are sorted. In midfield they have strength in depth. Up front you have the front four who are phenomenal and Saturday proved that in Divok Origi they have another striking option with someone who can step up, again, when Liverpool need him most.
I think Liverpool can go all the way in the Champions League and be Champions of Europe once again. The Premier League title race is going to be fascinating with Chelsea and Manchester City likely to push Liverpool all the way. I believe Chelsea and City will look to strengthen in January, so I would love to see Liverpool to do the same.
During the season, fighting on all fronts, you have to rest players. With the added pressure of the Africa Cup of Nations absentees, bringing in another top player would be a real lift."
Losing either forward for a significant period of time would certainly be a huge loss to the Merseysiders, with Salah in particular in sensational form this season. Indeed, with 20 goals and assists already to his name in the league alone, he is on course to smash all manner of long-standing records.
How does the Egyptian superstar compare to Luis Suarez, the Reds magical front-man from Enrique's days at Anfield?
"I played with Luis. I saw him in training and he would do the same there as on the pitch. He was crazy and I know how much impact he had on us in the dressing room before games. So, between them I would have to err towards Luis.
However, if Mo Salah continues the numbers he has now until the end of the season I would have to change my mind and go with Salah. Because he's a winger: I know he comes inside but he's a winger, not a striker. So, for him to get these numbers is just incredible. Plus, there is all that he has done in the past."
In the late-2000s and beyond, Enrique established himself as a firm favourite of the Kop, admired for his technical ability and regular marauding down the left flank from his full-back berth. Naturally then, his thoughts on Andy Robertson, the present incumbent in that role, are worth listening to.
"He has so many qualities that it is difficult to only mention one. I love the players who work so hard and Robbo gives you that work rate. He gives 200% per game. He is fast and crosses really well – his left foot is magnificent – and for me he is the most complete left back in the world. Other left-backs might be more skillful but if I was picking a dream team definitely I'd choose Robbo every time because he'd put in 7 or 8 out of 10 performances every game."
If the affable Spaniard is evidently a fan of Robertson, that goes double for the England international on the opposing wing, a 'unique' talent who he reserves nothing but the highest of praise for.
"Trent is at a different level. Look at his age and what he's producing now and what he can become. He's still very young. His numbers are fake (laughs). They are just unbelievable. Usually a full-back would be very happy with six or seven assists per season but his are double that sometimes.
He has a right foot as good as Stevie (Gerrard) or De Bruyne and is the best passer in the team. I've never seen a full-back who can pass like he can. Wherever he looks he can just put it there and actually with his crosses they are ahead of the player, waiting for them, because he puts the ball where he feels the player is going to go. Most of the time he is right too. So, I've never seen a player like Trent who can deliver the balls that he does, from every single place on the pitch. It is unique, the way that he plays, and you can talk about world class players like Cafu – and I loved Cafu – and they don't have what he has. He is unique."
Prior to joining Liverpool in 2011, for a fee of £7m, Enrique excelled for Newcastle, a club that has experienced the wildest of extremes in 2021/22. Off the pitch, a recent headline-grabbing takeover instantly made the Magpies wealthy beyond all imagination. On it, they are finally off the foot of the table after a win against Burnley on Saturday, though relegation to the Championship remains a possibility.
Might that possibility deter potential transfer targets as Newcastle prepare to invest some of their good fortune?
"It's difficult for Newcastle. They have one month before the transfer window starts and it's certainly harder to attract top players to come to a club that is several points behind the rest. To a club where relegation is a possible reality. So, a lot depends on how December goes for them and hopefully this win will push them forward. It is important they are still in touch with the clubs around them and that will allow them to make a case to get in good players who can help them get away from the difficult situation."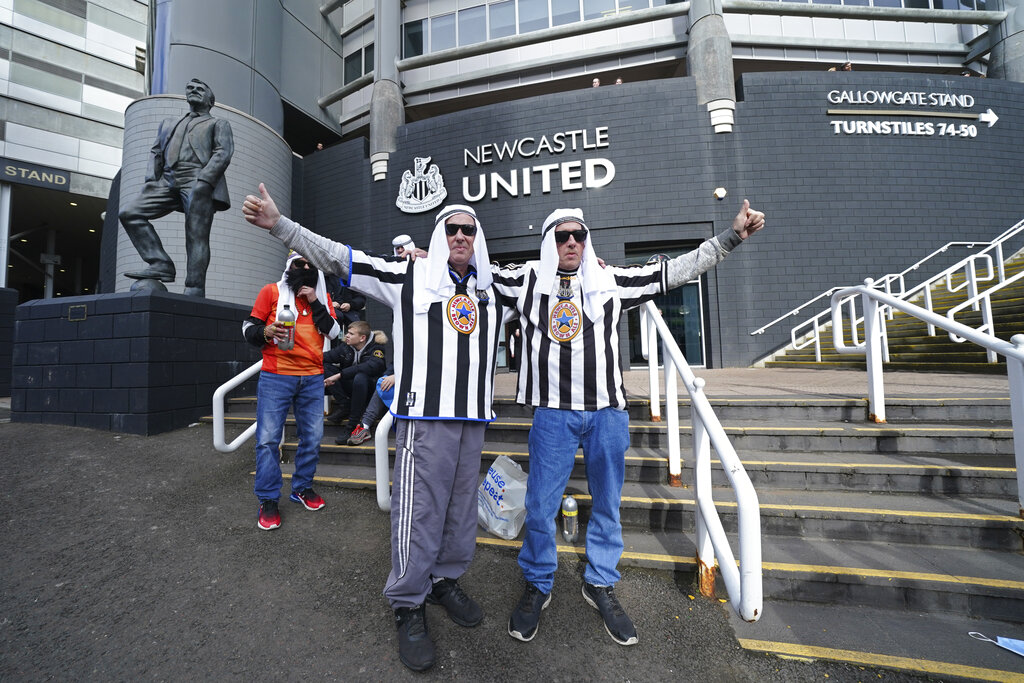 As for the calibre of player on Newcastle's shopping list, Enrique hopes that his former employer purchase wisely.
"They need to approach the right kind of players. Do they go for big names or do they target players like Saint-Maximin, the kind who have the desire to prove themselves as top players?"
Whichever way they go, the North-East giants and their ever-loyal fans can expect some interesting times ahead, and with the distinct chance of some long-overdue success on the horizon, the 35-year-old is delighted.
"They deserve everything because the fans are incredible. I know how frustrated they have been and I was frustrated myself when I played there. When renewing my contract I had doubts because we were selling very important players and I was told no-one was coming in, that was the reality and it's been the reality ever since I left the club. I played five years at Liverpool and I've been retired five years and nothing changed in that time. So, I'm really, really happy for the city and for the fans.
Jose Enrique quickfire questions
Who will win the Premier League? Liverpool 11/4
*Odds accurate at time of publishing
Click here for the latest Premier league Outright Odds at 888sport
Who will win the Golden Boot? No doubt, it's Salah
Who will win the Champions League? Liverpool 11/2
*Odds accurate at time of publishing
Click here for the latest Champions League Outright Odds at 888sport
---
Credit for all of the photos in this article belongs to AP Photo*