What is EACH-WAY BET?
The most straightforward way to answer the question of what is an each-way bet is to basically think of it as two bets - one bet is to win, the other is to place.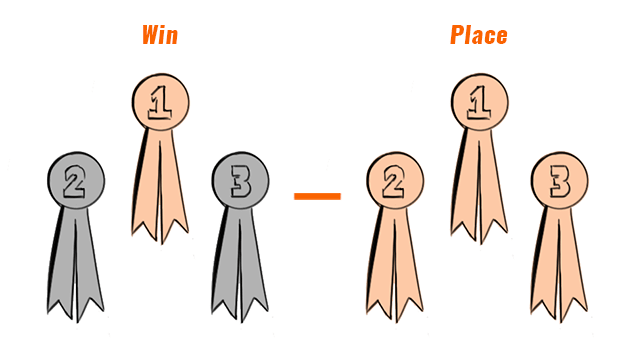 As an each-way bet is two separate bets, you have to double your stake. You will receive a return on your bet if your selection wins but also if it places.
In horse racing, each-way betting terms usually pay three or four places. Sometimes this can extend to five places on big races, so keep an eye out for special offers!
In other sports, such as golf, each-way terms can include up to five or six places. In a lot of other cases, such as football tournament betting, e.g. the football World Cup, each-way terms can place the finalists (1,2) or semi-finalists (1,2,3,4).
Each-way terms in tennis, darts, snooker, rugby union, basketball, ice hockey, baseball, American football etc. tend to also pay out on the finalists in each event.
EACH WAY BETTING IN HORSE RACING
Most bettors who have had a bet on horse racing have got a tale to tell of seeing their selected horse run a fantastic race only to be denied right on the winning post! Finishing second can be agonising in some cases. Meanwhile, at other times, if you have managed to uncover a big-priced horse capable of running into a place, this can turn out to be more lucrative than backing a winning favorite at a short price!
Strategy is all-important when it comes to striking your bets, so be sure to give yourself the best chance of securing a profit from your next horse racing bet by considering the option to bet each-way!
Each way betting is a key component in horse racing, both for multiple bets – as we have already seen in this chapter – and also on singles.
With the each way bet explained, let's use a practical example of how this might have an impact on you when betting on horse racing.
Below is an example of the difference an each-way stake can make to a racing bet at Newbury.
In this example, if our chosen horse wins, a £1 single 'to win' returns £17. In a competitive race with more than 16 runners, it is always possible that your selection could run very well but not get the luck needed to win. In this instance, given that the horse is 16/1, it may pay to bet each-way.
Here is the same bet, struck each-way instead of win only.
The each-way terms offered mean that if the horse finishes in the first four places, your bet is paid at 4/1 (a quarter of the odds offered).
If the horse wins, you will be paid £22. Of that total, £17 is for the win-only bet at odds of 16/1 while the other £5 comes from the each-way part of the bet at 4/1.
If the horse only finishes second, third or fourth, you are still paid £5 on the each-way bet, ensuring you have still more than doubled the initial investment on this bet!
Each-way betting is a useful tool when it comes to racing, especially when you are backing at bigger prices! To begin with, it may be useful to consider using an each way bet calculator to help decide if there is sufficient value available to make this the correct bet for you.
EACH-WAY BETTING ON OTHER SPORTS
You will always see the option to tick 'each-way' on your racing bets. On many other sports, you will see the option to place the 'win' and 'each-way' bets separately.
This is highlighted in the betting market for The Masters golf tournament below:
This format makes it easy for you to see the exact price you are getting on the 'place terms'. In this instance, the place terms are paying the first five players in the tournament.
Each Way Bet - FAQ:
How Does Each Way Betting Work?
If you fancy a selection at longer odds to win but want to add that extra insurance in case it finishes 2nd or 3rd, each way betting is the best option.
Which Sports Are Best For Each Way Betting?
Horse racing is the most popular day-to-day sport for each way betting but football, Formula One and golf are also an option.
How to place an Each Way Betting With 888sport
Let's say you fancy Altior to win the Cheltenham Gold Cup. At the time of writing, Altior is 20/1 to do just that – meaning a £5 each way bet would return £130 if he is successful.
With place terms set at 1/5, top three, this wager on Altior would return £25 if he finished in the places. Simply take the odds (20/1) and divide it by 5 (1/5), then multiply it by the each-way part of your stake (4 x 5) and add the stake (£5) on.
Are There Other Each Way Options?
Some bookmakers offer 'place betting' markets but this eliminates the chance for punters to win via the 'win' leg of the bet. Although the total cost would be halved, the odds offered for place betting are usually not quite as lucrative as each-way wagers.