Francesco Totti is the oldest goal scorer in the Champions League era

This list reads like a Hall of Fame of Champions League megastars

How many names could you guess of the oldest Champions League scorers in the list below?
---
From challenging midweek trips in Autumn to high-profile showdowns in Spring, Champions League betting attracts millions, and sometimes billions, of eyes from around the globe.
It's the stage where stars are born, where legacies are made, where players and managers can write their names in the annals of football history alongside the sport's all-time greats.
Oldest Champions League Scorers:
Pitting the continent's best against each other can make it tricky to identify the best European football tips. The Champions League is a world of its own, a different betting challenge to the marathon of a domestic season.
Experience matters when the lights are brightest. It takes a special footballer to still be thriving on the biggest stage deep into their thirties.
Here are the oldest goal scorers in Champions League history…
Lee Dixon
Probably not the name you expected to see here, Lee Dixon scored Arsenal's third goal in a 4-2 win over Sparta Prague back in 2000.
Dixon was a stalwart on successful Arsenal teams, though he never experienced glory in the Champions League.
Joining the Gunners in 1988 and eventually retiring in 2002, it's not unreasonable to claim Dixon's career has been underrated. He won just 22 England caps despite claiming four league titles with the north London club.
Now a pundit, Dixon scored just 41 goals in over 800 career matches. One of those goals was enough to earn him a place on this prestigious list – he's keeping some impressive company.
Cristiano Ronaldo
No one has been more prominent in football bets over the last decade-plus than Cristiano Ronaldo.
Scoring against Villarreal at the start of his second Manchester United stint, Ronaldo became the ninth-oldest goal scorer in Champions League history.

The Portuguese star is bound to climb this list in the coming months and years. It wouldn't be a surprise to anyone if he broke Francesco Totti's record.
Ronaldo's role has changed, he's swapped Madrid for Turin and now Manchester, but he remains one of the world's premier goal scorers.
Didier Drogba
Beyond the goal tally, Didier Drogba has a special place in Champions League history.
He was at the epicentre of several controversies, he's scored jaw-dropping goals, and most significantly, he carried Chelsea to their first Champions League triumph in 2012.

That penalty in Munich was thought to be his final kick of a ball for the club.
Drogba returned a couple of years later, however, and when he scored Chelsea's fourth goal against Schalke in November 2014, he slotted into the top 10 oldest scorers in tournament history.
Bryan Robson
Bryan Robson was the oldest Champions League goal scorer for almost a decade.
In the twilight of his career as the European Cup was rebranded, Robson was just a couple of months shy of his 37th birthday when he found the net for Manchester United against Galatasaray in 1993.

Captaining England 65 times and earning an array of medals at Old Trafford, Robson never tasted success in European action.
Despite that, Captain Marvel is viewed as one of the greatest English players of all-time.
Paolo Maldini
It's fair to say the 2005 Champions League final isn't remembered for Paolo Maldini's opening goal.
That strike made him the second oldest scorer in Champions League history at the time.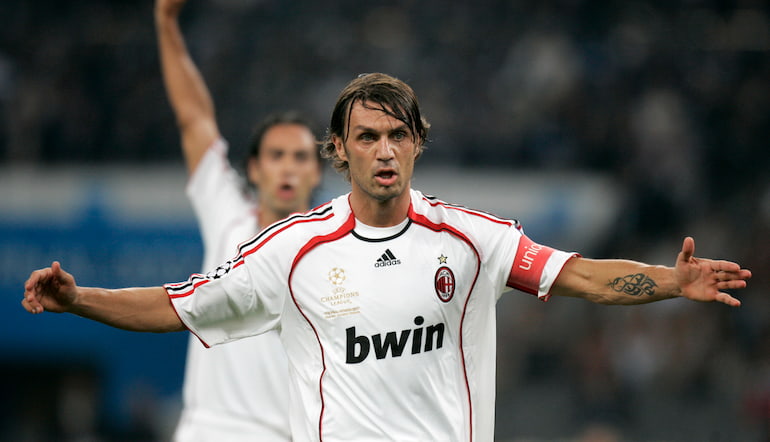 Of course, Liverpool went on to overturn a three-goal deficit and win the final on penalties.
Maldini and Milan got their revenge a couple of years later, though, as the Italian icon won his fifth European Cup.
Laurent Blanc
In what turned out to be a dramatic trip to Greece for Manchester United, Laurent Blanc wrote his name into the Champions League history books when he scored the opening goal.
It was one of his four goals scored by Le Président in his Manchester United spell.

Blanc had a decorated career on the field, which has continued after his transition to the dugout.
He's got four Ligue 1 titles to his name and has been named French Manager of the Year twice.
Javier Zanetti
Javier Zanetti holds an array of records, so it's only fair he lets someone else have this one.
The Argentine full-back played for Inter for almost two decades and was an integral part of the Nerazzurri team which came out on top in Champions League predictions in 2010.

It was actually the season after that Zanetti scored his final Champions League goal a couple of months after his 37th birthday.
He did so in a famous match, too, as Inter held off a Gareth Bale second half hat-trick to beat Spurs 4-3 at San Siro.
Filippo Inzaghi
One of the Champions League top scorers and with a couple of winners' medals in his collection, Filippo Inzaghi combined predatory finishing with longevity at the highest level.
The Italian's final Champions League strike came in a 2-2 draw with Real Madrid in November 2010.

Three years earlier, he had been named Man of the Match as Milan beat Liverpool in the 2007 final.
Inzaghi is the highest scoring Italian in UEFA competition, and Milan's all-time leading scorer in Europe. It'll take some going to break his records.
Ryan Giggs
Ryan Giggs hung around for a few more seasons after his last Champions League goal in 2011.

While Giggs was a tearaway winger in his pomp, he adjusted into a more reserved midfield role and took on leadership responsibilities in the latter years of his career.
The 2011 strike against Lazio made Giggs the oldest Champions League goal scorer of all-time. The record stood for just over three years.
Francesco Totti
Francesco Totti is the most universally adored player of his generation.
One-club players have earned an almost unique status in the last two or three decades, and Totti had the supreme talent to accompany his unmatched loyalty.

Roma's all-time leading scorer and with the second-most goals in Serie A ever, Totti didn't chase trophies, but he amassed an impressive catalogue of individual accolades.
His goal in a 1-1 draw with CSKA Moscow in November 2014 was his last in Champions League competition.
---
*Credit for all of the photos in this article belongs to AP Photo*