HORSE RACING GUIDELINES
In this chapter we will cover the principles you should have in mind for a horse racing betting guide. We will explore ante post betting, how to bet on horse racing, how to read horse racing form, different rules related to betting on horses and more.
By the end, you should have a clearer picture in your mind and be confident you have horse betting explained.
Before learning how to bet on horse racing, you need to familiarise yourself with some terms that will help you understand horse racing.
There is also an opportunity to have horse racing form explained, ensuring you have the perfect horse racing guide at your fingertips.
4.2 ANTE POST BETS
What is ante-post betting?
The best way to define ante post betting is to think of it as anything that will happen in the future. This could be next week, next month, next year, or even further ahead – depending on the betting market you are focusing on.
Ante-post betting can have different meanings for different sports, but essentially, when betting ante-post you are betting on something you believe will happen in the future.
Horse Racing
You can place an ante post bet on future races where a market has been formed.
The examples could include the Cheltenham Festival or Royal Ascot, which are big meetings with a lot of races available for ante post betting. Ante post betting rules differ slightly from normal horse racing betting; the most important factor to note is that if your selection does not run in the race for any reason, your ante post bet will be deemed a loser.
Why bet ante-post?
If you are new to betting on horses you might be wondering why you would want to bet on events that are going to take place some distance in the future, as opposed to waiting until they are ready to happen.
One reason to bet ante-post is to find greater value.
For example, in horse racing, if you fancy a horse that is going to run at the Cheltenham Festival – in March – and you back your selection in December, you will often be able to do so at much bigger odds than would be available come race day.
The downside to this is that if your selection does not run in the race for any reason, your bet can be non-refundable.
The trick is find the balance between additional value and the risk of your selection definitely taking part.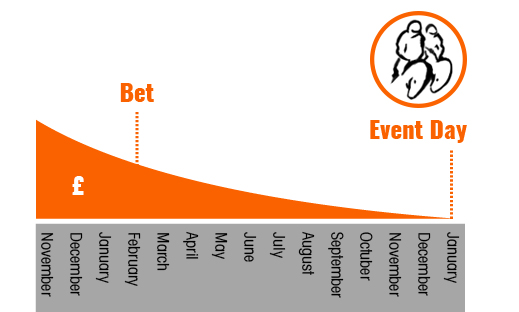 4.3 ABANDONED / POSTPONED RACES OR MEETINGS
All bets on horse racing will be deemed to be void if the race or meeting is abandoned. This most commonly happens owing to poor weather, when frost snow or rain can cause the track to become unsuitable for racing.
Any bets placed on the day of the race will be refunded in these situations. All ante post bets will stand for the rescheduled race date.
4.4 AMENDMENTS AFTER THE OFFICIAL RESULT
The official result of a horse race is deemed to have occurred after the jockeys have 'weighed-in'. Once this has taken place any future amendments will not be taken into account for the purposes of settling bets. Note, the weigh-in would not happen until after any stewards enquiry – an amended result via stewards enquiry will be used for settling bets.
4.5 BEST ODDS / ENHANCED PRICES
If you are betting on the day of a race, you will get the 'best odds'. That is to say, if you take a morning/early price and the horse wins at a bigger price, you will receive the bigger price (applies to singles only).
For example, if you take a price of 4/1 and the selection wins with a Starting Price of 5/1, you are paid at 5/1. If you take a price of 3/1 and the selection wins with a Starting Price of 2/1, you are paid at 3/1.
From time to time, the offer of 'enhanced prices' on selected horses may be available. For example, a horse that is 2/1 in the market might be enhanced to 3/1 for a limited time. If you take the enhanced price special, you are paid at 3/1 regardless of the Starting Price.
4.6 DEAD HEAT
A dead heat in betting is when two or more participants tie for a position in an event.
In horse racing, a dead heat is declared when two, or more, horses pass the winning post together and a photo-finish cannot split them. Essentially, both horses in this case share first place.
Half of your stake therefore is paid out at the full odds you placed your bet. The other half of your stake is lost.
If three horses dead-heat, you are paid a third at full odds etc.
4.7 FORECAST/TRICAST BETTING
Forecast betting is where you predict several finishing positions in one race. A straight forecast is where you name 1st and 2nd placed finishers, in the correct order.
A reversed forecast is when you name two selections to finish 1st and 2nd in any order – note that this costs double the stake, much like an each-way bet.
To place this type of bet, there must be three or more horses in the race.
Similarly, you can place a Tricast bet, selecting the horses to finish 1st, 2nd and 3rd in the correct order.
4.8 NON-RUNNERS
In all horse races where a runner is withdrawn, or adjudged not to have started - and therefore been declared a Non-Runner by the starter - stakes on that selection will be refunded as this bet is void.
Any horse that comes under Starters Orders and subsequently refuses to race will be considered a loser. Ante post bets where the horse is a non-runner will be deemed losers.
When there is a non-runner or a withdrawal in a race, all bets on remaining runners are subject to Rule 4 deductions dependent on the non-runner's price at the time it was withdrawn.